As the place where you prep drinks, cook meals and wash the dishes, the kitchen can very quickly feel overcrowded with the commotion of oven timers, kid's lunches, and open refrigerator doors. Because it's one of the busiest places in the house, the kitchen might be the trickiest room to design as storage and functionality are key to creating a purposeful space.
So how do you nail down cute kitchen decor while also balancing all of your other basic kitchen design needs? Fortunately, we have a list of the best kitchen decor ideas you can implement if you're looking to add that dash of inspiration to your kitchen and maintain a functional space.
Pretty Tile Backsplashes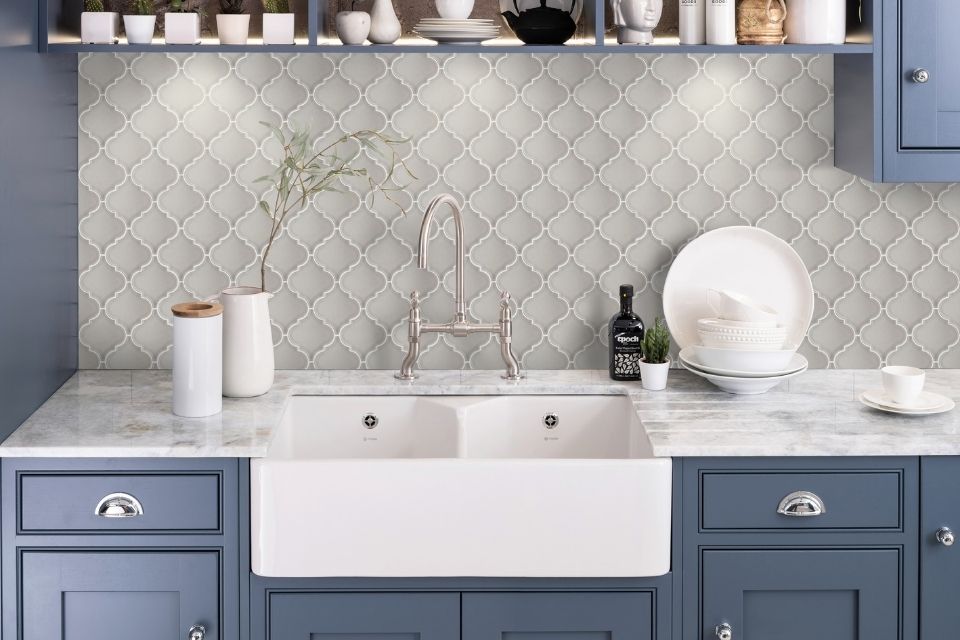 Morocco Fawn Arabesque Gloss Mosaic Ceramic Emser Tile
Tile backsplashes aren't just a fancy decoration. They come in handy to protect your walls from damage when water splashes up from the sink or sauces go flying off the pan. With so many options, from solid colored subway tile to glass mosaic to patterned ceramic, tile backsplashes are a quick way to enhance the design of your kitchen and don't require a hefty investment. These are ideal for installing over your oven or sink, as the tile will break up your wall space and define designated "work zones" like the veggie chopping and prep area to the washing station. Plus, you can customized tile to your taste, matching your backsplashes to the color palettes and metal finishes that already exist in your current design.
Waterproof Flooring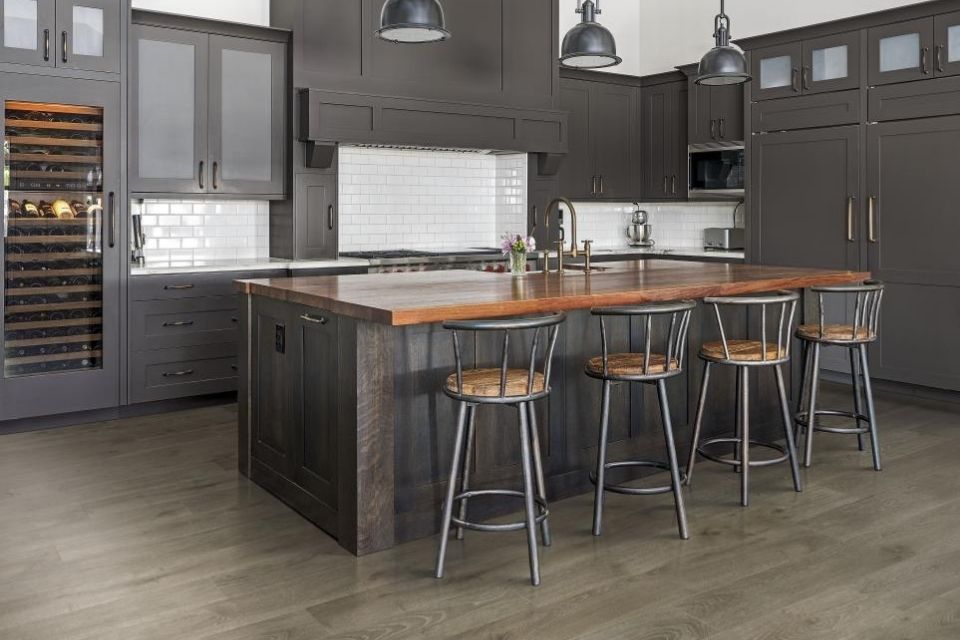 Ponds Edge by Mirror Lake Laminate
Waterproof flooring is crucial to any active household needing extra protection for their kitchen floors. The good news is, today's flooring technology provides an endless amount of waterproof flooring options. Whether you're looking for the authentic appeal of genuine hardwood or you love polished stone tiles, you can find waterproof flooring in pretty much any category, from porcelain and ceramic to luxury vinyl and engineered hardwood.
Even some types of laminate are waterproof, including Carpet One Floor & Home's Mirror Lake line of products. Featuring waterproof technology that helps prevent pet and children accidents from leaking into your subfloors, Mirror Lake performance laminate perfectly mimics natural hardwood. Luxury vinyl is another excellent choice if you have small children around as it's both durably waterproof and soft underfoot, giving you the beauty of hardwood for less hassle.
Stunning Pendant Lights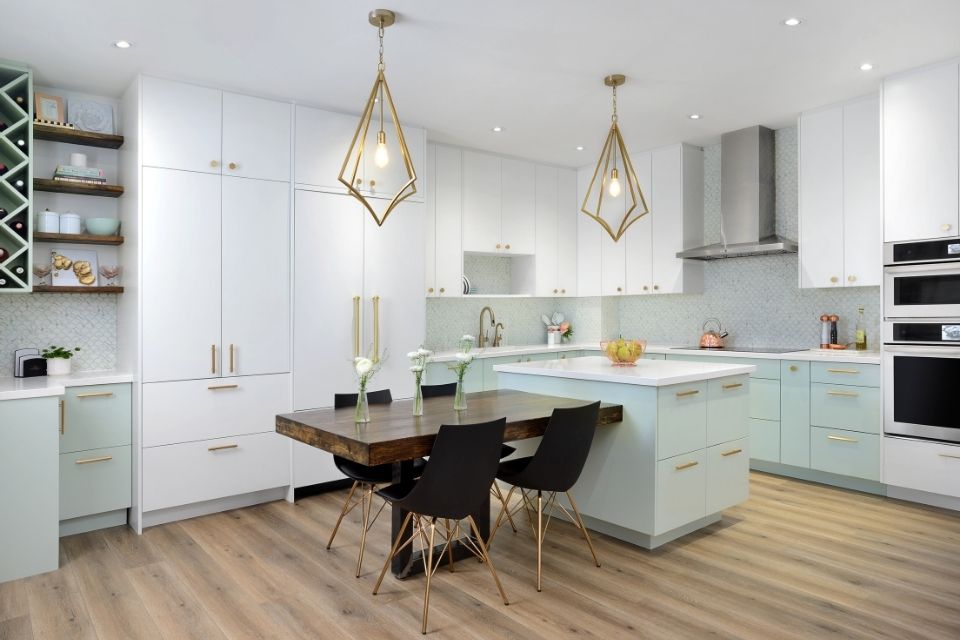 Design by MICHELLE BERWICK Photography by LARRY ARNAL
Lighting plays an essential role in mastering the kitchen. Several spaces should be considered when you think about your kitchen lighting. This includes task lighting, overhead lighting, and mood lighting. Task lighting concerns ensuring that the work counters and cabinetry in the kitchen are properly lighted so you can safely prep meals, read recipes, and find ingredients.
Overhead lighting comes from directly above and is central to the kitchen space. One of the most efficient and sophisticated ways to illuminate the kitchen is with stunning pendant lights. These days, kitchen lighting is available in gorgeous finishes and natural materials, from glass pendants to wrought iron chandeliers to brushed steel single domes. Incorporate dimmer switches to add an extra layer of ambiance. Dimmer switches are pretty handy when you want to make a midnight snack or you're brewing your early morning cup of coffee, and you don't need that harsh bright light.
Functional Kitchen Islands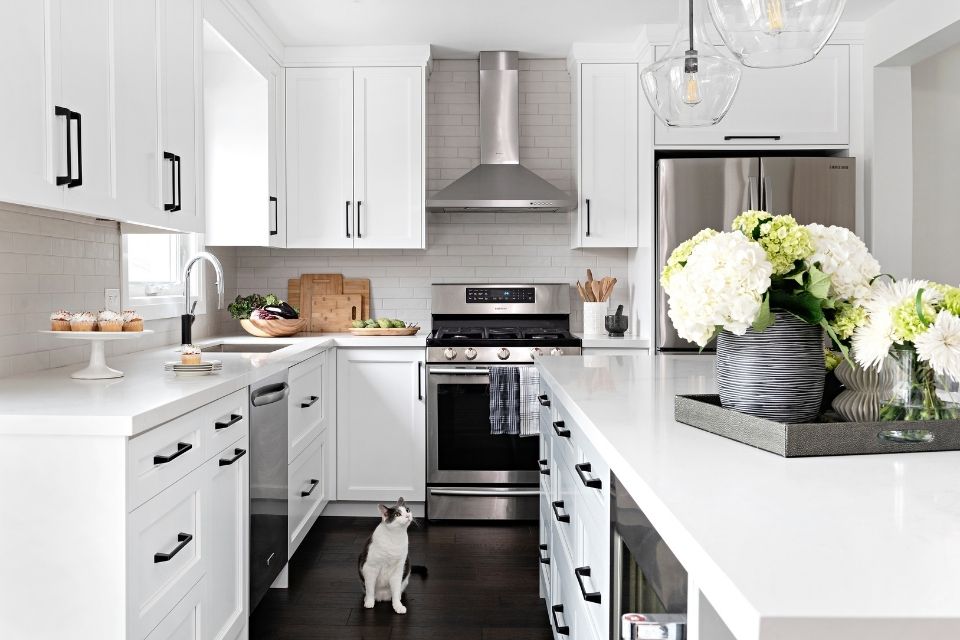 Design by ANDREA COLMAN Photography by MIKE CHAJECKI
There's nothing better than having a stunning kitchen island —except maybe a kitchen island with storage space! Between mismatched dishes, extra serving spoons, and endless baking equipment, it's always helpful to maximize your kitchen storage. A kitchen island provides extra counter space and gives you the perfect place to hide away any miscellaneous items that you don't want on display.
A clean kitchen and clear countertop provide peace of mind so you can set the stage with decor items you've purposefully chosen, like that heirloom vase of fresh flowers or the elegant cake stand holding your latest delicious creation.
Green Space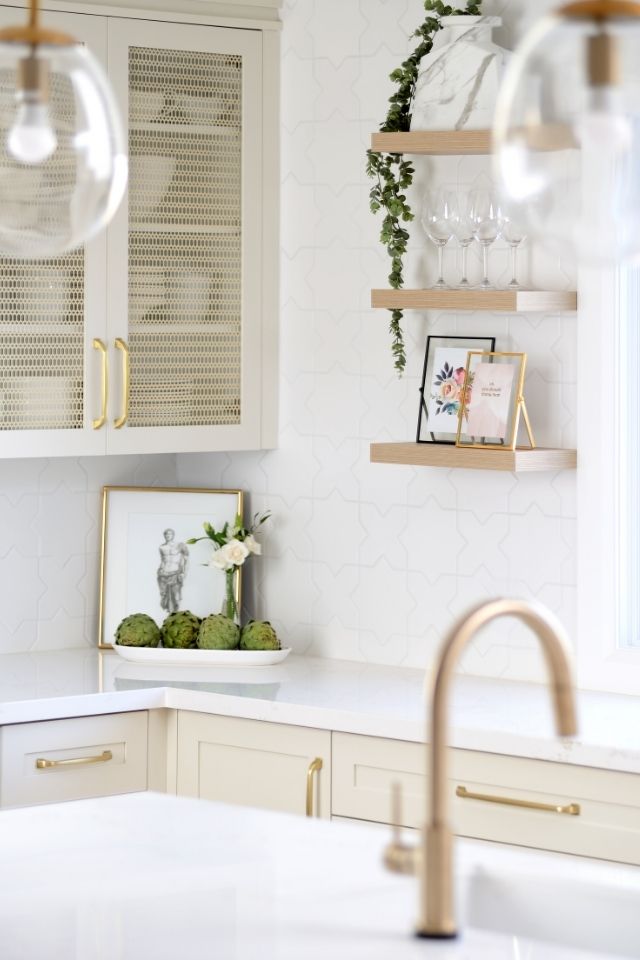 Design by MICHELLE BERWICK Photography by LARRY ARNAL
One final piece of kitchen decor advice is to add a touch of green either through plants, vegetables, or floral arrangements. Using colored decor in your kitchen is a simple way to liven things up, especially with a monochromatic palette. Fresh flowers, plant fillers, and greenery walls boost playfulness to bring a stagnant kitchen design to life. Green elements can serve a purpose, too, like windowsill herb plants —now you can add that dash of oregano straight from your kitchen garden!

Are you looking for more design inspiration? Read our latest issue of Beautiful Design Made Simple to gather all the latest trends in flooring and home decor.